http://sportsnet.ca>. And that last nugget is an indirect result of the very publication you're reading right now.

No, really! I'm being serious now.

Not to brag or anything, but this isn't the first time I've written for the Mirror. Back when I roamed the halls you roam now, I loved two things above all others: writing and basketball. So, when Mr. McPherson… wait, I get to call him "Ted," now, right? We're all adults here!

When Ted asked if I'd write something for Dover Bay's on-again, off-again newsletter of record, I said something like, "Sure."

I wrote what I knew, which at the time was pretty much limited to my Grade 12 boys' basketball team. (We finished eighth in the province that year. No big deal.) I broke down each player on the squad, and handed the article to my editor — my first editor — on a 3.5-inch floppy disk. Then, like magic, the story re-emerged a few days later on gleaming yellow 8.5-by-14-inch paper.

"This is fun," I probably thought, "this joining-up-for-student-newspapers thing."

Then I made a career of doing just that. When I got to the University of Victoria, I signed up for the paper there — it's called the Martlet, in case you were wondering, and it was named after a fictitious legless bird.

From there I got a job at a newswire for Canadian student newspapers in Toronto, which opened me up to jobs at OWL magazine (if you happened to read it at any point between 2005 and 2012… that was my head on the illustrated body on the Contents page) and finally Sportsnet.

So basically what I'm saying is this: You never really know what small decision may turn out to be a big one. Or, you know, consider saying "Sure" if someone (ie. my peer, Ted) offers you an opportunity that sounds like a good idea based on who you are and what you maybe want to do with your life. You likely won't regret it.

Craig Battle
Sportsnet.ca
What We Think You Should Read! Five Feet Apart, by Rachael Lippincott, Mikki Daughtry, and Tobias Iaconis
Set in the CF wing of a small town hospital, Stella Grant, an optimistic high schooler, finds herself in yet another extended stay at her local hospital after an outbreak with her cystic fibrosis (Cystic Fibrosis is a disease, which causes mucus build-up in your lungs, resulting in very little lung function). In which even touching someone else with the disease or coming close to them can have deadly effects, Stella and everyone with the disease has to stay six feet apart from each other. Stella has always played it safe, until Will Newman, a fellow patient of cystic fibrosis, comes to the hospital. Will's rebelliousness and unwillingness to comply with his medication, clashes greatly with Stella's need for control but the two find common ground in their disease. Though Stella knows she must stay away from Will to avoid contracting any infections, her heart wishes to close the gap and steal back what life has stolen from her. Their feelings for one another defy distance and disease as they battle all logistics of relationships between CF patients.
We would rate this book a 4.5/5 for it's beautiful yet tragic story. The tension of this book will keep you gripping the edge of your seat, and the emotions will make you cry and laugh all at the same time. The main character's story is both hopeful and problematic and will keep you wishing for more. We definitely urge you to give this book a read and keep some tissues nearby!
Book Review team: Malanya and Khushi Brar
Dolphins and Dumpsters!
Dumpster: To Ryan Russell for annoying all of his friends for constantly asking them for advice, yet always doing the opposite of what he is told.
Dolphin: To The Workshop Crew for hosting a terrific evening at the Costin hall and awakening the dance in those who attended
Dumpster: To the bathroom stalls that make us uncomfortable due to the overly large gaps in between the stall walls and the crawl space sized gap underneath.
Dolphin: To the incredible students and teachers that hosted and participated in the most recent lip sync battle whom made it a fun and chocolate filled event to behold.
Dumpster: To the film students that broke the light reflector and didn't clean up after themselves after doing their filming, causing Linda to scold all of us
Dolphin: To Ann Walker for always helping us on our online courses.
Dumpster: To the lack of a cross walk on the side of the school on Hammond bay and all the brave kids that jaywalk it day in and day out
Dumpster: To the teachers who give their students way too many tests disguised as quizzes without notice.
Dolphins and Dumpsters team: Ryan Russell
Sports! The Alumni Addition
Here's the deal: Mr. McPherson asked me if I could write something for the sports section of the Mirror. I'm pretty sure the last time I did was in my Grade 12 year here at Dover Bay. That was in 1995. That was 24 years ago. Yes, I am certainly getting old (even if I don't look it). But I'll give it a shot.
If you don't know who I am (and there's a good chance you may not), I have been a sports broadcaster since graduating from BCIT just over 20 years ago. Before that, when I wasn't in class or the drama room here at Dover, I was doing a lot of volunteer broadcasting in Nanaimo at the local radio and cable TV stations. Some of your older teachers who are still here (looking at you Mr. Nicks, Mr. Dendes, and both Mr. Baird's) may remember hearing a young "Clipper Joe" on the radio.
These days, you can hear me during the hockey season on Sportsnet 650 as host of all the Vancouver Canucks radio broadcasts. Outside of hockey season, you can read my stories on Sportsnet.ca covering the Vancouver Whitecaps in Major League Soccer, or occasionally hear me host on a number of 650's daily talk shows. I have been fortunate to attend a lot of sporting events over the years, including games in the NHL, NFL, NBA, and MLB, plus other events like Premier League soccer matches in London England, World Championship boxing matches in Las Vegas and New York and the Kentucky Derby in Louisville
Last January during the NHL All Star break, I had the chance to return to Dover Bay to speak with many of you students. It's something I enjoy doing and hope I can continue to do on a yearly basis. I wish I had a chance to get back to Nanaimo more than I do, but my family no longer lives here. After my talk was finished in the multi-purpose room, Mr. McPherson suggested I be a guest writer for the Mirror like many Dolphins alumni have been doing this year. Seeing as he's getting ready to retire, the least I could do was accept Mr. McPherson's offer.
As the Stanley Cup Playoffs are underway, I figured I'd give you a preview of the four second round series, as well as who I think will progress on to the Conference Finals.
**San Jose  vs Colorado**
Whether or not you think they got lucky because of bad officiating, the Sharks earned their way out of their series with the Golden Knights. When captain Joe Pavelskileft the third period of Game 7 injured after a cross check from Vegas forward Cody Eakin, a major penalty probably wasn't the right call. But the Knights, leading 3-0, should have been able do a better job defending than eventually giving four goals in less than five minutes. Remember, the Sharks trailed the series 3-1 after four games, but they found a way to rally with their backs against the wall. Facing elimination in three straight games, they got timely goals from numerous players (both on the power play and penalty kill), and they got terrific goaltending from Martin Jones.
They will need to get re-energized in a hurry, as the Avalanche are firing on all cylinders at the moment. Many will think it was a fluke Colorado eliminated the Calgary Flames in five games. Sure, the Avs were the underdogs against the top team in the West during the regular season. However, Colorado played great down the final six weeks of the season to earn a playoff spot and never took their foot off the gas. Their top line of Nathan MacKinnon, Mikko Rantanen and Gabriel Landeskogcombined for 21 points against the Flames, but they may need more help to take out a Sharks team that is bound to ride the emotional wave of their series with Vegas. The Sharks have loaded up their roster the last few years. This may be their best shot at winning it all.
Prediction: Sharks in 6
**St. Louis vs Dallas**
On New Year's Day, the Blues were in last spot in the NHL. Their comeback in the second half of the season has been remarkable to watch, as was their first round series victory over the Winnipeg Jets. The Blues won all three road games in the series and continued to ride the wonderful net-minding efforts of rookie Jordan Binnington. Five different skaters put up 2-or-more goals in their six-game series with Winnipeg, including Jaden Schwartz who scored four unanswered.
They will host the Stars who surprised many by dispatching the Nashville Predators in six games. Dallas didn't sew up a playoff spot until the final two weeks of the season, but they've come together at the right time. Goalie Ben Bishop stopped nearly 95% of the shots he faced in the first round, and led by captain & Victoria nativeJamie Benn, the Stars take on the Blues having won three straight.
Of all the final four series, this one is a pick 'em. The momentum the Blues have had for the last few months should give them the edge, but it won't surprise me if Dallas comes out on top.
Prediction: Blues in 7
**Boston vs Columbus**
The Bruins were one of the most consistent teams in the NHL this season and they showed it when they knocked out the Toronto Maple Leafs in seven games. Boston's core group of players, who have been a part of long playoff runs in the past, were great against the Leafs. That includes forwards Patrice Bergeron and Brad Marchand, defenceman Zdeno Chara and goalie Tuukka Rask. The Bruins scored seven times on the power play while not allowing a power play goal against on home ice. Their experience and special teams were big factors in progressing on.
Their opponent gets to the second round after pulling off one of the biggest playoff upsets in league history. The Blue Jackets, who filled the second Wild Card spot in the Eastern Conference days before the playoffs started, swept the Tampa Bay Lightning. Having won 62 games in the regular season was a huge accomplishment for the Bolts, but they couldn't figure out a way to contain John Tortorella's squad. Columbus put up 19 goals through four games and scored on half of their power play chances.
Even though the Jackets loaded up before the trade deadline and are through to the second round for the first time in club history, they likely meet their match this series.
Prediction: Bruins in 6
**NY Islanders vs Carolina**
Last season, the Islanders allowed the most goals of any team in the NHL. This year, they had the best goals against numbers in the league, thanks in part to Vezina finalist Robin Lehner. New York didn't miss a beat when the playoffs started, sweeping the Pittsburgh Penguins 4-0. Solid team defense and strong play on the counter attack led the Islanders to this point. They sure look like a team buying in to what Stanley Cup winning Head Coach Barry Trotz has been preaching.
While many thought Trotz was destined to coach against his former team, the Hurricanes had other ideas. Making the playoffs for the first time in a decade, Carolina pulled off a massive upset of the Washington Capitals with a thrilling Game 7 win on the road in double overtime. They join Columbus, Dallas and Colorado as Wild Card teams who knocked off Division winners. Head Coach and Campbell River native Rod Brind'Amour, who won the Cup when it was hoisted in Carolina in 2006, has gotten the most out of his team all season. Eliminating the defending champions may be their hi-lite of their year though. Isles look solid in all areas and will be tough to beat.
Prediction: Islanders in 6
Joey Kenward 
Canucks Host
Sportsnet 650
@kenwardskorner
What We Think You Should Watch! Captain Marvel
One of the newest installments in the MCU (Marvel Cinematic Universe) is Captain Marvel, written and directed by Anna Boden and Ryan Fleck Set in the 1990's it predates all other superhero movies in the MCU. The film follows the story of Carol Danvers as she acquires powers and skills that make her among the most powerful beings in the universe. The movie also fills in the backstory of one Nick Fury who later assembles the avengers and pages Captain Marvel to come help earth after the cataclysmic events of Infinity Wars. This film did an excellent job of creating an engaging plot while not contradicting the viewers knowledge of  the future. It includes the fast-paced action that audiences have become accustomed to while still encompassing heartfelt moments, empowering themes and a unique comedic style. We highly recommended to see this film before watching Avengers: Endgame.
Movie Review team: Tiana
Horoscopes!
Aries: (Mar 21-Apr 19)
A spike of energy is soon to come. Although it's easier to do what's fun, don't forget about what's important. And please stop yelling so loud.
Lucky numbers: 4, 10, 20, 47
Taurus: (Apr 20-May 20)
Even though you're usually the voice of logic, you might offend someone very soon if you don't start listening to the opinions of others.
Lucky numbers: 4, 12, 56, 81
Gemini: (May 21-June 20)
Someone who will be influential and helpful to you may come into your life, let them speak.
Lucky numbers: 8, 16, 39, 41
Cancer: (Jun 21-Jul 22)
Something positive, yet unexpected will happen in the near future. But keep in mind that your reactions are always over the top. Try keeping your cool and act as justified.
Lucky numbers: 21, 22, 10, 99
Leo:(July 23 – August 22)
Soon you'll be standing at a crossroads. But speak your mind and do what makes you happy even if you're afraid to. Not everyone will like it, so stop caring about what others think.
Lucky numbers: 27, 23, 18, 13
Virgo: (August 23 – September 22)
You're going to see a new side of yourself, your choices right now will determine if its positive or negative. But most importantly, stop looking at everything in too much detail. Oh, and hide. It's Aries season.
Lucky numbers: 6, 10, 16, 8
Libra: (September 23 – October 22)
You might gain a deeper understanding to better handle handle situations by listening more closely. You might influence someone significantly.
Lucky numbers: 21, 29, 36, 3
Scorpio: (October 23 – November 21)
At any time now, you're gonna have to rely heavily on someone. Put your faith back in people, you need to be more trusting.
Lucky numbers: 31, 13, 6, 9
Sagittarius: (November 22 – December 21)
You may feel like you're being pulled in many directions. So turn around and retrace your steps to where you began. If you don't know where to go or what to do, then wait until you have determined what's the best path to take. Don't just take any random road.
Lucky numbers: 6, 57, 73, 26
Capricorn: (December 22 – January 19)
You might soon say something that you'll regret, accidentally. Your sarcasm is sometimes a gift, sometimes a curse. Tone it down, no one can understand if your joking or not.
Lucky numbers: 12, 1, 28, 54
Aquarius: (Jan 20-Feb 18)
At this time, concentrating will be difficult. But cleaning up and organizing your surroundings can help you organize your thoughts and help you focus.
Lucky numbers: 14, 17, 44, 66
Pisces: (Feb 19-Mar 20)
Friendships will flourish, let people know you care about them. You might feel a sense of balance or ease.
Lucky numbers: 51, 63, 42, 2
Horoscope Team: Taylor Hamilton
The Comic!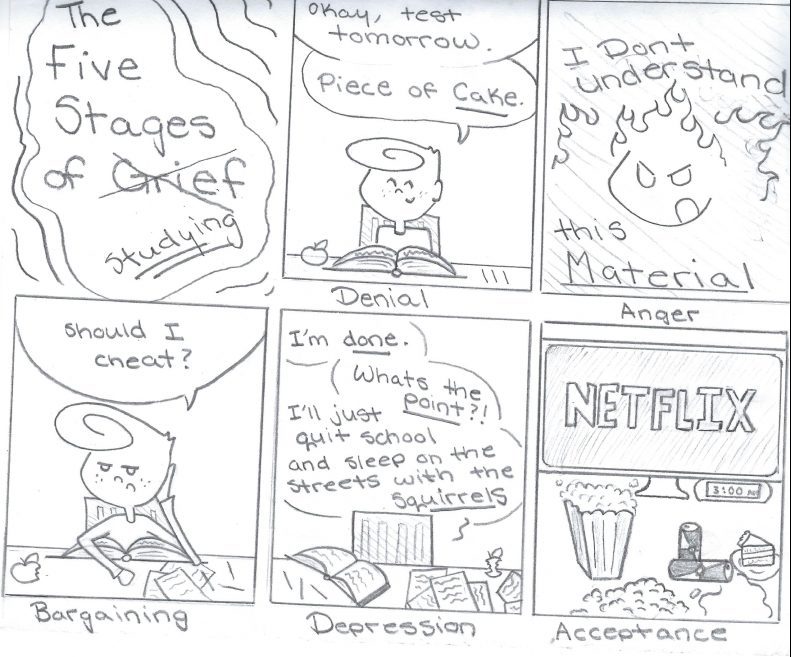 ">

Quick introduction: My name is Craig Battle, and I'm the founder of Nanaimo. I built Dover Bay Secondary, pinkish brick by pinkish brick, with my bare hands. It took about a week. You're welcome. No! I'm kidding. In actual fact, I just attended Dover Bay, and graduated in 1998. I currently live in Toronto, and […]